AdamTools® SIS
AdamTools® is designed to function as a one-stop-shop for student information management from application through graduation. It easily manages information through simple, integrated feature-rich functional managers to streamline a K-12 school's operation functions. 
K-12 Effective Management Toolset
AdamTools® is a school operation effectiveness management tool.  It encompasses online and on-site admission, course scheduling, registration, attendance management, report cards and transcript management, HR, and fee management.  More importantly, AdamTools® comes with App for teachers and parents to provide close communication between teachers and parents for students' and schools' announcements.
Better yet, it allows data management for multiple districts with centralized management features if desired.  Inherently, AdamTools® enables users to have different access rights so that district, school, or student data can be appropriately managed and controlled.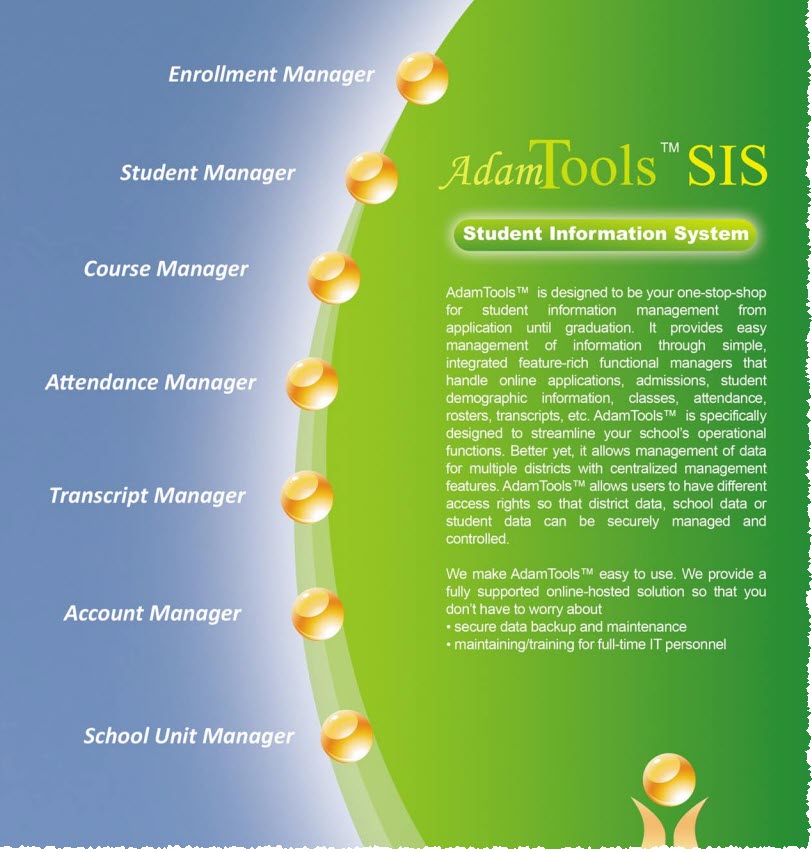 Main Features of AdamTools for The K-12 Suite
EvalTools® LMS
EvalTools® is designed NOT only for day-to-day classroom activity, but also for gauging learning and teaching delivery in meeting standards.  Its design is parallel to Google Classroom's features just so that the transition to EvalTools® is easy for those teachers who are familiar with Google Classroom. Better yet, eliminate the confusing interfaces that are common complaints for Google Classroom from students.
EvalTools® Meet
EvalTools® Meet is a fully intergated module into EvalTools®. That means you do Not need to separately invite students to your meeting.  Once you set up a meeting, students join your meeting by simply a click when they are in your classroom.
Principal Office:
EvalTools® provides dashboard features for principal to view the overall teachers' activities.
We make AdamTools® easy to use. We provide a fully supported online hosted solution so that you won't worry about
secure data backup and maintenance
maintain/training of full-time IT personnel